Hello sweeties,
Valentine's Day is almost here, and that day we just want to be with the loved one , look in their eyes and say how much we love and how she is special in our lives, and how they make us happy, and as we would like to have that person by our sides for the rest of our lives, and for those who decided to make a candlelight dinner, I brought some menu suggestions for this so special day. And I hope you enjoy it, happy Valentine's day.
Menu 1
Appetizer
Vegetables Crumble
INGREDIENTS
1 cup of diced carrots
1 cup chopped broccoli
½ cup pod (cut into 3)
1 recipe of bechamel sauce
100 g grated Parmesan cheese
Salt and pepper
6 slices of stale bread form (let opened over one night )
70 ml extra virgin olive oil
Fresh rosemary
PREPARATION
1. Cook the carrots, broccoli, and green beans, separately until they are pre-cooked (al dente).
2. Preheat oven to 180 ° C. Cut the bread into small cubes as well.
3. Place on a baking sheet the cubes of bread, olive oil and some rosemary sprigs. Mix well and bake to golden brown.
4. In an ovenproof container spread a little oil. Put the vegetables and spread the bechamel sauce on top.
5. Place the grated Parmesan cheese last.
6. When removing the oven crouton, increase the temperature to 220 ° C and light crumble to bake until golden brown.
7. Before serving sprinkle the mini croutons on top.
Main dish
Linguine with Swordfish and Tomato
INGREDIENTS
2 medium-sized zucchini
4 small garlic cloves
400 g Pachino tomatoes, or cherry tomatoes
4 tbsp extra virgin olive oil
Salt
Freshly ground black pepper
100 ml dry white wine
200 ml fish stock
400 g fresh swordfish fillet
1/4 tsp chili flakes
3 basil sprigs
500 g fresh linguine
2 tbsp pesto Genovese sauce
Trim the zucchini at both ends. Cut them twice lengthwise and then into strips 1/2 cm thin. Peel the garlic cloves and chop finely. Wash the tomatoes and cut in half. Heat the olive oil in a saucepan and gently sauté the garlic. Add the zucchini and season with salt and pepper. Now add the tomatoes and sauté for 3 minutes over medium heat.
Deglaze with white wine and reduce. Add the fish stock to the saucepan and continue to cook gently.
Cut the swordfish fillet into pieces of 2 cm and season with chili flakes. Wash the basil sprigs and cut the leaves into strips.
In the meantime, bring a saucepan with salted water to the boil and cook the linguine as indicated on the packaging.
Add the swordfish to the sauce and cook gently, it will be done in very short time.
Drain the linguine through a colander, add them to the sauce together with the pesto and toss well. Arrange on plates and serve.
MOUSSE WITH POMEGRANATE SYRUP
Ingredients
. 3 egg whites
. 3 tablespoons sugar
. 250 g of white chocolate
. 1 can of cream
. 1/2 cup water
. 1/4 cup currants
. 3 pomegranates seeds
. 1 tablespoon lemon juice
Preparation
Beat the egg whites, add the sugar and continue beating.
Melt the chocolate in a double boiler, remove from heat and add the cream.
Gently fold the egg whites with the chocolate cream. Distribute in individual bowls and take them to the refrigerator.
In a saucepan, place water, currants and cook over high heat until boiling.
Add the pomegranate seeds, turn off the heat and stir in lemon juice.
Leave to cool and distribute on mousses glaces.
Aphrodisiac banana mousse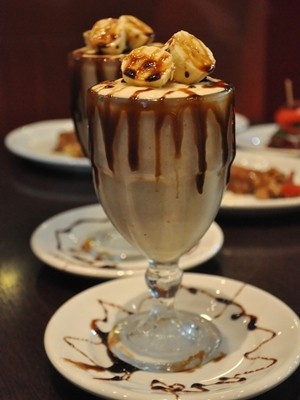 Ingredients
5 ripe banana
Juice of two lemons
½ cup sugar
1 cream
3 egg whites beaten stiff
½ package unflavored gelatin powder
To decorate: chopped bananas and chocolate syrup
Preparation
Peel and mash the bananas with sugar and lemon juice. Cook until you get a cream point, when the banana is already dissolved. If necessary, add a little water. Meanwhile, beat the egg whites and set aside. Let cool banana and add the cream, unflavored powder gelatin already dissolved in water and finally the whipped egg whites, mix slowly. Distribute into bowls and refrigerate about 5 hours, when become it is firm. Garnish with sliced bananas and chocolate syrup.
Appetizer
Stuffed Veggies with Walnut Sauce
FOR THE VEGETABLES
4 large tomatoes
salt and pepper
4 red onions
2 large zucchini
9 oz bulgur wheat
3 tbsp olive oil
2 rib celery
4 clove garlic
4 1/2 oz shiitake mushrooms
leaves from 4–6 tarragon sprigs, chopped
leaves from 4–6 parsley sprigs, chopped
FOR THE WALNUT-GARLIC SAUCE
leaves from 4–6 parsley sprigs
4 clove garlic
3/4 cup walnut
1 cup walnut oil
PREPARATION
PREPARE THE VEGETABLES
Core the tomatoes and cut a slice off the top of each. Scoop out the insides, leaving a 1/2in (1cm) shell. Scrape the seeds from the scooped-out solids; reserve the solids for the stuffing. Season the inside of the tomatoes with salt and pepper, and set them upside-down on paper towels for 30 minutes. Stuffed Veggies with Walnut Sauce
Peel the onions. Cut a flat slice off the top and a thin slice from the root end of each so it will sit flat. Put in a saucepan and cover with water. Add salt, put on the lid, and bring to a boil. Simmer for 10–15 minutes, until barely tender. Drain on paper towels. Hollow out the onions, leaving a 1/2in (1cm) shell, pushing out the core with your fingers. Reserve the cores for the stuffing. Stuffed Veggies with Walnut Sauce
Trim the zucchini and cut them lengthwise in half. Fill a saucepan with water, bring to a boil, add salt, then the zucchini. Simmer for 3–5 minutes. Drain in a colander and rinse with cold water. Scoop out and discard the seeds, leaving a 1/2in (1cm) shell. Stuffed Veggies with Walnut Sauce
MAKE THE STUFFING
Put the bulgur in a large bowl, pour in 2 1/2 cups boiling water, cover, and let stand for 30 minutes, until plump. Drain off any excess water. Chop the reserved onion cores and the tomato solids.
Heat the oil in a frying pan. Add the celery, garlic, and chopped onion and cook, stirring, for 2–3 minutes, until soft but not brown. Add the mushrooms, season with salt and pepper, and cook for about 5 minutes, until the liquid has evaporated. Stir in the chopped tomato and cook until the liquid evaporates, about 2 minutes more. Add the chopped herbs. Mix the sautéed vegetables into the bulgur. Taste for seasoning.
STUFF AND BAKE THE VEGETABLES
Preheat the oven to 375°F (190°C). Oil a large baking dish. Spoon the stuffing into the onions, zucchini, and tomatoes. Spread the remaining stuffing over the bottom of the dish and arrange the vegetables on top. Cover with oiled foil, and bake for 15–20 minutes, until tender.
MAKE THE SAUCE
Put the parsley, garlic, walnuts, and 2 tbsp cold water in a food processor and purée to a paste. Season with salt and pepper. With the blade turning, gradually add the walnut oil. Taste for seasoning.
Arrange a tomato, an onion, and a zucchini half, with extra stuffing from the baking dish, if you like, on 4 warmed plates. Serve the walnut-garlic sauce on the side.
Main Dish
Ingredients
2 tablespoons olive oil
2 tablespoons butter
½ yellow onion, minced
1 ½ cups arborrio rice
8 cups liquid: 3 cups champagne, 3 cups chicken broth, 2 cups water
1 cup finely shredded parmesan cheese
kosher salt to taste
parmesan and fresh thyme leaves to garnish
PREPARATION
In a large sauté pan, add the olive oil and the butter and melt together over medium low heat. Add the minced onion and sprinkle with salt. Cook over medium low heat until the onion is soft and translucent.
Add the rice to the pan and it in with the onions, oil and butter. Cook for a few minutes until the rice is translucent except for the white center in each grain of rice. This will be about 3-5 minutes.
Add 1 cup of champagne and deglaze the pan with it. Turn the heat up to medium and stir the rice constantly as the champagne cooks off and is absorbed by the rice. Add the 2nd cup of champagne and stir until it is almost all absorbed, follow the same instructions for the 3rd cup of champagne.
Next add the chicken broth in the same way, stirring constantly and adding just one cup at a time.
If your rice is still too firm, add 2 cups of water, one at a time and stir until the rice is al dente and very creamy from all of the stirring.
At the last minute, turn the rice to low and add the cheese and stir it in well. Season to taste with kosher salt. Spoon onto serving plates or bowls and garnish with extra finely shredded parmesan and a sprinkling of fresh thyme leaves.
INGREDIENTS
1 tablespoon chopped cashew nuts
1 vanilla ice cream ball
1 Yellow Cavendish banana
1 strawberry ice cream ball
1 ball chocolate ice cream ball
2 tablespoons strawberry for topping
2 tablespoons caramel for topping
2 tablespoon of chocolate for topping
2 tablespoons whipping cream
candies or cherries
Preparation
Cut the banana in half lengthwise and accommodate the two halves at the sides of a cup for banana split.
Distribute a strawberry ice cream ball, vanilla ice cream and chocolate ice cream
Cover the strawberry ice cream with strawberry topping, the cream with the caramel and the chocolate with the chocolate
Place the whipped cream in a pastry bag and spread it among the scoops of ice cream, sprinkle with cashews and decorate with candies or cherries.
Appetizer
Ingredients
8 smoked trout, skinless and boneless (225 g)
2 tablespoons of melted butter
50 g of cream cheese
1 tablespoon of lemon juice
Pepper
4 slices of bread
Cherry tomatoes cut in half
1 parsley to decorate
Preparation
Place in blender or processor, trout, butter, cheese, lemon, and pepper. Beat until it forms a smooth paste. Place in a serving dish and bring to freeze. Serve with toasted bread slices or Fill halves of cherry tomatoes. Garnish with parsley.
RIB-EYE STEAKS WITH BELL PEPPERS AND GORGONZOLA BUTTER
INGREDIENTS
1/4 cup (packed) crumbled Gorgonzola cheese (about 1 1/2 ounces)
2 tablespoons (1/4 stick) butter, room temperature
3 tablespoons minced fresh marjoram
1/2 cup extra-virgin olive oil
6 large garlic cloves, minced
4 1 1/4-inch-thick rib-eye steaks
2 large green bell peppers, cut into 1 1/2-inch-wide strips
2 large red bell peppers, cut into 1 1/2-inch-wide strips
2 large yellow bell peppers, cut into 1 1/2-inch-wide strips
PREPARATION
Beat cheese, butter and 1 tablespoon marjoram in small bowl to blend. Season Gorgonzola butter with salt and pepper. (Can be made 1 day ahead. Cover; chill.)
Combine oil, garlic and 2 tablespoons marjoram in large glass baking dish. Add steaks and all peppers; sprinkle with black pepper. Turn to coat. Let stand 2 hours at room temperature or chill up to 6 hours, turning occasionally.
Prepare barbecue (medium-high heat). Place steaks and peppers on grill; sprinkle with salt. Grill steaks about 5 minutes per side for medium-rare, and peppers until tender, turning occasionally, about 10 minutes.
Transfer steaks to platter; surround with peppers. Top each steak with 1/4 of Gorgonzola butter. Let stand just until butter softens, about 5 minutes.
Ingredients
. 3 tablespoons butter
. 2 tablespoons chopped onion
. 1 cup of rice
. 1 cup dry white wine
. 1 1/3 cup broth
. Pepper
. Salt to taste
. 3 tablespoons grated Parmesan cheese
Preparation
In a saucepan, melt the butter and add the onion. Fry, stirring, until soft. Add the rice and saute for a few minutes.
In another pan, heat the wine and broth and pour over rice. Season with salt and pepper. Cover and cook on low heat for 20 minutes or until the rice is tender.
Sprinkle with Parmesan cheese. Garnish with coarsely cut parsley and serve.
Vanilla mousse with berries
Ingredients
. 1 pack of pudding vanilla flavor
. 100 ml of fresh cream
. 1/2 cup of water
. 1/2 cup sugar
. 1 cup of frozen berries
Preparation
Prepare the pudding according to package directions. Remove from heat and let cool.
Using an electric mixer, beat the whipping cream to make whipped cream point. Gently fold in the pudding and set aside.
In a saucepan, whisk together the water, sugar and red fruit. Bring to a simmer, without stirring, until syrup to point.
In individual bowls, distribute the syrup and top with the mousse. Take the refrigerator for at least 4 hours.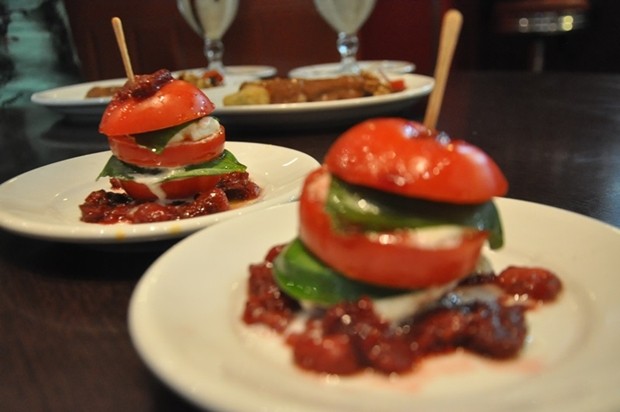 Ingredients
2 ripe tomatoes
Basil leaves
Buffalo mozzarella
fresh strawberries
1/2 chili pepper
Sugar and olive oil
Preparation
Start with the sauce. Cut the pepper into small pieces. In a frying pan, add sugar to cover the bottom, pepper and strawberries. Leave on low heat, stirring occasionally until the sauce gain the jelly consistency. If necessary, add water. To assemble the dish, cut the tomatoes and the mozzarella into slices and alternate with layers of tomato, mozzarella and basil. Distribute the sauce and season with olive oil.
Main dish
Filet mignon with Cheese Sauce
Ingredients
1 kg of filet mignon in thick steaks
1/2 cup red wine
1 cup cottage cheese
1 can of cream
200 grams of shredded mozzarella
Pepper
Chopped garlic
Salt
Preparation
Start seasoning the filet mignon with pepper, salt and garlic.
Add the red wine and let resting for about 10 minutes.
Then grill the steaks in butter or olive oil and leave until lightly browned on both sides.
Arrange them on a baking sheet.
Then mix in a bowl the part of the cream and cream cheese.
Cover the fillets with the mixture and sprinkle grated mozzarella on it. Bake gratin.
Serve with roasted potatoes and rice.
INGREDIENTS
500 grams filet mignon cut into steaks
seasoning , parsley and rosemary
2 tablespoon of oil
1 teaspoon of corn starch
1/2 cup milk
2 Spoon mustard sauce
1 Pinch of nutmeg
Preparation
In a medium bowl, place the meat and season with parsley and rosemary.
Reserve.
In a medium frying pan (18 cm diameter), heat a part of the oil over medium heat and fry the meat for 3 minutes on each side.
Remove and place on a platter.
Reserve.
Dissolve the cornstarch in milk and place in same skillet, stirring constantly.
Add the mustard sauce and nutmeg and boil it for another 2 minutes.
Cover the meat with the sauce.
Serve immediately.
Ingredients:
2 1/2 cups of red fruit (strawberry, raspberry, blackberry)
1 can of condensed milk
1 can of serum-free cream
fruit to decorate
whipped cream
Preparation
In a blender, beat the berries, condensed milk and the cream without serum. Distribute in individual bowls and bring them to freeze. To serve, garnish with whipped cream and berries.
Chocolate mousse and passion fruit
Ingredients
Chocolate mousse:
. 200 g semisweet chocolate
. 1 cup sour cream
. 1 teaspoon unflavored gelatin powder
. 4 tablespoons of water
. 2 egg whites
Passion fruit mousse:
. 1 cup condensed milk
. 1 cup passion fruit juice
. 1 teaspoon unflavored gelatin powder
. 4 tablespoons of water
. 2 egg whites
Chocolate mousse: Melt the dark chocolate with the cream in a double boiler. Hydrate the gelatin in water and also dissolve in water bath. Beat the egg whites. Mix the chocolate, gelatin and egg whites. Refrigerate while preparing the second mousse.
Passion fruit mousse: In a blender beat the condensed milk and passion fruit juice to thicken. Hydrate the gelatin in water and dissolve in a water bath. Beat the egg whites. Mix the passion fruit cream, gelatin and egg whites. In individual bowls put a lot of chocolate mousse and a lot of passion fruit mousse. With the aid of a fork merge the mousses.
Two colors mousse with strawberry
Ingredients
. 2 cream boxes (200 g)
. 1 tablet of chopped white chocolate (160 g)
. 1 bar of chocolate semisweet (160 g)
. 250 g of chopped ripe strawberries
. 4 tablespoons strawberry jam
Preparation
1. Prepare the white cream: Put a cream box and the white chocolate in a bowl itself.
2. Bake in microwave at medium power for 4 minutes, stirring halfway through. Remove and mix until become a smooth cream.
3. Prepare the dark cream: Place the other cream box and the semisweet chocolate in a bowl.
4. Bake in microwave on medium power for 4 minutes. Stir in half the time. Remove and mix until a smooth cream. Let cool.
5. Assemble the dessert: 4 cups, switch the two creams and chopped strawberries.
6. Refrigerate for 1 hour.
7. When serving, garnish with the jam.
Chocolate mousse and walnuts
Ingredients
. 500 gr of walnuts
. 1 1/4 can of condensed milk
. 1 1/2 cup of chocolate
. 3 eggs
. 1/3 cup of white wine
. 1, 1/2 package of unflavored colorless powder gelatin
. 500 ml of fresh cream
Preparation
In a saucepan, put the crushed nuts, condensed milk, chocolate milk and egg yolks. Cook over low heat stirring constantly until light and fluffy. Let cool and add the white wine. Stir and set aside.
Hydrate and dissolve the gelatin according to the manufacturer's instructions and set aside. Beat the egg whites until stiff and add the gelatin.
Stir gently and add the nuts cream. Mix slowly and slowly incorporate the whipped cream into whipped cream point, low moves up.
Pour into individual bowls and refrigerate until the next day. Serve garnished with chocolate syrup.